Workshop Experiences
The camera lens isn't wide enough. When I teach online, you see my hands, paper, palette and brush, and you learn. But when I teach a workshop you see my heart, and we thrive.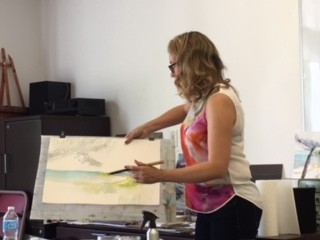 I'm feeling so energized after a two-day workshop in Edmonton, Canada. There are many unknowns for an instructor going into a workshop situation. Teaching students from all over the country, with different skill levels and expectations can feel incredibly stressful. Travel means I'm working on less sleep or adjusting to a different time zone (even an hour makes a difference!). It could be easy to think it's not really worth it to teach in person, when I connect with so many more people in an online course, but there is so much to be gained when we meet face to face.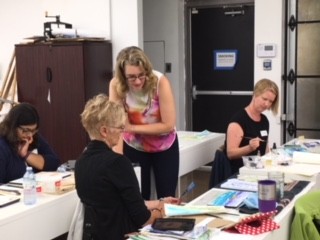 A classroom full of watercolour lovers creates a beautiful energy. We are united by our passion for the medium and by the struggles we all share in trying to loosen up and express ourselves more fully. I'm not a commanding instructor; I prefer to come alongside students and collaborate rather than direct. I teach by asking questions and sharing illustrations, by articulating my thought process and working to free students and help them soar.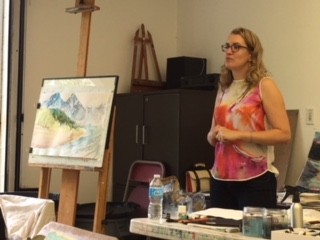 Students at my workshop this weekend saw my heart as I shared honestly about the painting process, about selling art and balancing family. They laughed with me as I shared how my children feel about having an artist for a mom ("I don't know, normal?") and why I don't worry when none of my paintings are turning out. They got to see me paint awkwardly and without clear direction before finding my way and seeing excitement pour out of the brush.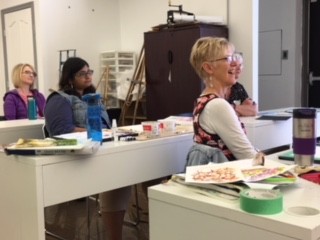 I wander the aisles with my brush in hand, to show solutions and assist students in decision making. I get to hear stories and see photos of the landscapes that inspire where you live. I talk about why I paint upside down during workshops, and I dance with my whole body to explain the "flow" of a composition. A workshop that starts with a group of strangers ends with laughter, cheesecake and friendship, relaxed and empowered.
It's little wonder that I came home and immediately purchased my flights to Ireland, where I get to teach a 6 day workshop in September, 2018. If two days painting is this uplifting, after 6 days we won't even need the return flights home; we'll be able to float their on our own!
There are a few spaces left in my Ireland workshop. Register here.